Sunday –
I travelled to Toksook with Heidi & George Saturday night. Tununak was the 2nd group to Yuraq. The Toksook gym was packed with people, and we had a stage full of dancers. I enjoyed dancing… my new favorite song this weekend is the 'basketball song.'

I was planning on going back to Toksook Sunday for the final night of Yuraq, but the weather turned ---- blowing snow and wind-chills well below -30, sometimes as cold as -50 degrees.

It was a nice day to get caught up ---- in the classroom, lesson planning & organizing the apartment. It seems like I am always trying to catch-up, but yet I never seems to get EVERYTHING done:-(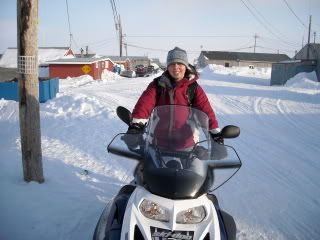 On my snowmachine in Toksook Bay!